Two Flask Books by Miguel Grinberg
This static blog site started on Github one year ago on April 1, 2009. It has been one year, and it is going better than I originally planned. The most frequent visitor of the site is most likely myself, and the site serves as an online notepad for myself.
I recently finished reading two Flask books by Miguel Grinberg. The first one is Flask Web Development - Developing Web Applications with Python, and the second book is The new and Improved Flask Mega Tutorial. Both books are fantastic. They are better than every Django book I have read, and they are definitely among the top programming books.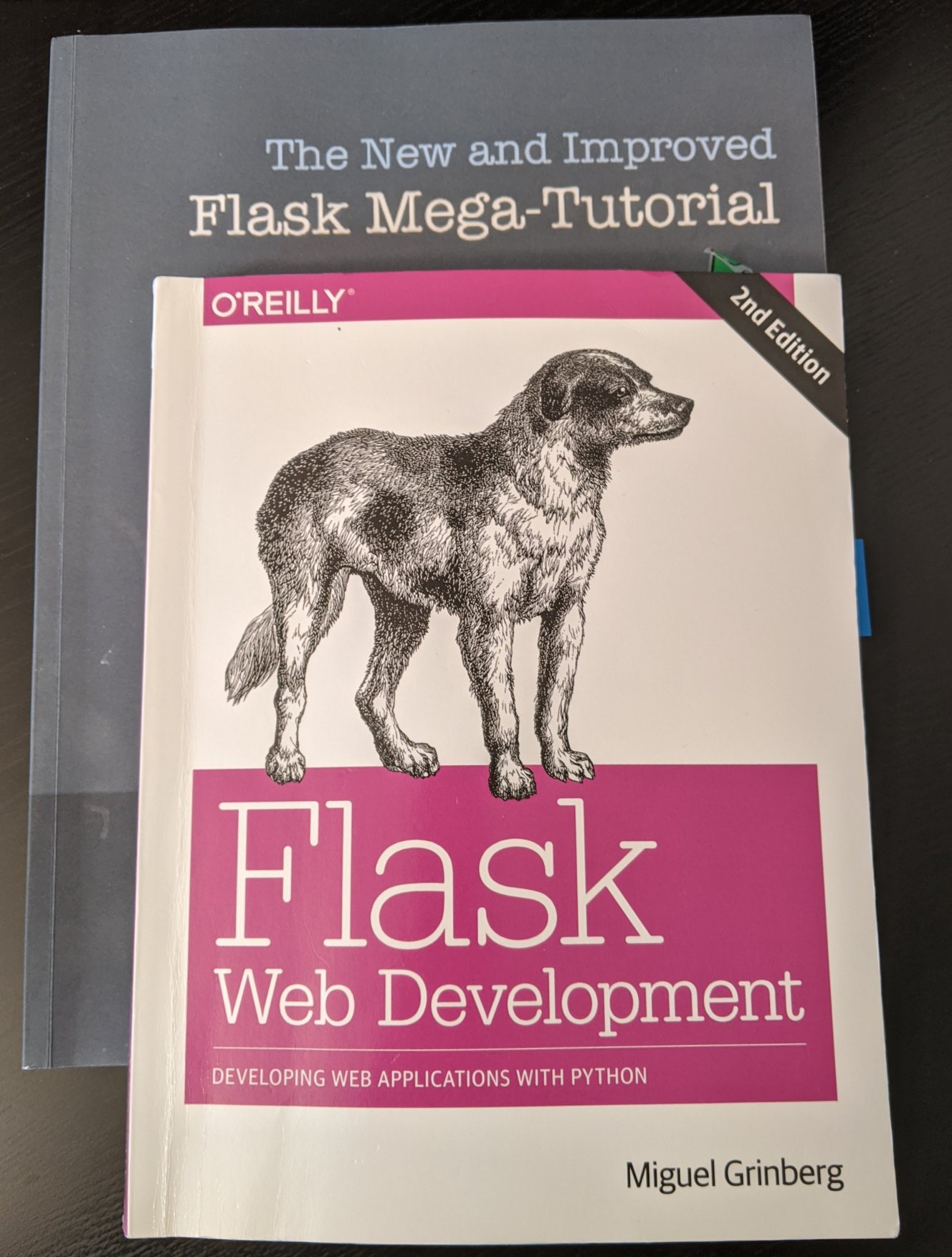 Here are some tips to work with the Flask Web Development source code flasky.
$ git clone https://github.com/miguelgrinberg/flasky.git
$ git checkout 8e
$ git checkout -b exercise
$ python -m venv venv
$ source venv/bin/activate
$ pip3 install -r requirements.txt
$ source setup.sh  # content see below
$ flask db upgrade
$ flask run

The setup.sh file sets two environment variables.
export

 

FLASK_APP

=

flasky.py


export

 

FLASK_DEBUG

=

1




echo

 

"setup FLASK_APP and FLASK_DEBUG"



If you run the commands above, the flask app will prompt errors because the configuration for the email smtp server is not complete. It is easier to setup a local smtp testing server than setup email accounts. Open a new terminal window and type the command below. The command invokes a standard python module smtpd and starts a debugging email server.
$python -m smtpd -n -c DebuggingServer localhost:8025

In the config.py file, add three lines to the DevelopmentConfig section.
class DevelopmentConfig(Config):
    DEBUG = True
    SQLALCHEMY_DATABASE_URI = os.environ.get('DEV_DATABASE_URL') or \
        'sqlite:///' + os.path.join(basedir, 'data-dev.sqlite')
    MAIL_SERVER = os.environ.get('MAIL_SERVER', 'localhost')  ### NEW
    MAIL_PORT = int(os.environ.get('MAIL_PORT', '8025'))
    MAIL_USE_TLS = False

You also need to initialize database when running the code base after Chapter 9 and Chapter 12. The commands are shown below.
$ flask shell
>>> Role.insert_roles()
>>> User.add_self_follows()