Simple Pelican Project Structure
Pelican project structure can be complicated for a beginner. A simple project structure makes it easy to create simple websites. Once you understand the sub directories in the output dir, you can use / to reference the website root and it makes easier to reference other images files or static files.
The image below shows a simple Pelican project structure I used for one website.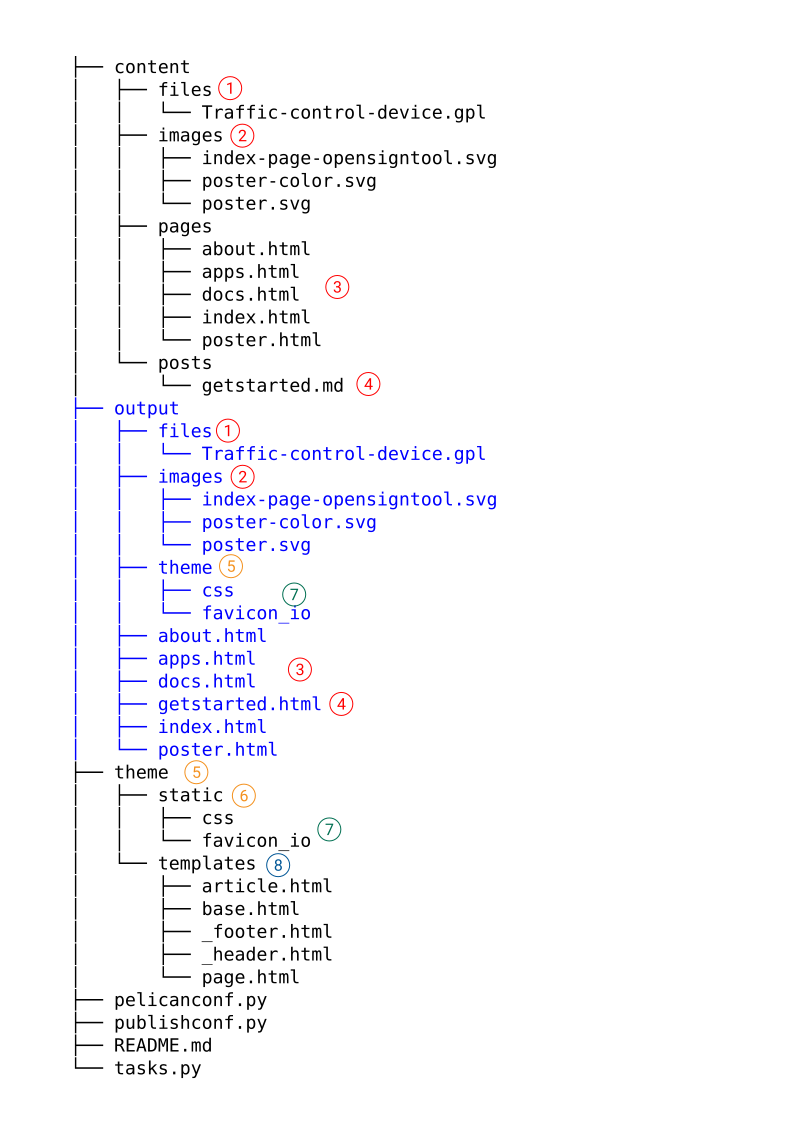 Here are the details of the project structure.
The files dir in content becomes files dir in output.
The images dir is copied to output. It is the same as files dir.
The html files in pages dir map to the same files in output. This is not the default Pelican behavior, and it requires a setting in the pelicanconf.py file.
The markdown files (.md) in posts dir map to files in output.
Pelican creates a theme dir in output. It maps to theme dir under project dir.
The static dir under theme disappears.

This Pelican design choice is strange.

The directories in static dir are copied to be under theme dir in output.
The templates dir disappears. The contents of the files become part of html file in output.
Below is the contents of the pelicanconf.py file with some default settings removed.
#!/usr/bin/env python




# -*- coding: utf-8 -*- #




from

 

__future__

 

import

 

unicode_literals





AUTHOR

 

=

 

'FistName LastName'




SITENAME

 

=

 

'www.example.com'




SITEURL

 

=

 

''





PATH

 

=

 

'content'





TIMEZONE

 

=

 

'America/New_York'





DEFAULT_LANG

 

=

 

'en'





STATIC_PATHS

 

=

 

[

'images'

,

 

'files'

]




# refer to files like this `/files/calendar/2019.svg`




# images with src = `/images/homepage.png`





THEME

 

=

 

"theme"





MARKDOWN

 

=

 

{


    

'extension_configs'

:

 

{


        

'markdown.extensions.codehilite'

:

 
           

{

"css_class"

:

 

"highlight"

,

 

"guess_lang"

:

 

False

,

 
            

"linenums"

:

 

False

},


        

'markdown.extensions.extra'

:

 

{},


        

'markdown.extensions.admonition'

:

 

{},


    

},


    

'output_format'

:

 

'html5'

,




}





# not using category




CATEGORY_SAVE_AS

 

=

 

''




CATEGORIES_SAVE_AS

 

=

 

''





ARCHIVES_SAVE_AS

 

=

 

''





# not using author




AUTHORS_URL

 

=

 

''




AUTHORS_SAVE_AS

 

=

 

''




AUTHOR_URL

 

=

 

''





# not using tags




TAG_SAVE_AS

 

=

 

''




TAGS_SAVE_AS

 

=

 

''




TAG_URL

 

=

 

''





# DEFAULT_PAGINATION = 3




INDEX_SAVE_AS

 

=

 

''




# SUMMARY_MAX_LENGTH = 30





TYPOGRIFY

 

=

 

True





# change from `/output/pages/{slug}.html` 




#  to /output/{slug}.html




PAGE_URL

 

=

 

'

{slug}

.html'




PAGE_SAVE_AS

 

=

 

'

{slug}

.html'